BACKGROUND
Client: EMC^2
Request: The client wanted to update their internal web portal with a more modern system that could be better utilized for connecting their partners with their engineers and designers. They believed that a system like this could act as a feedback cycle between end customers, partners, and internal resources to help create new products and services based on a better understanding of user needs. They wanted to have a solid concept with which to shop to higher level decision-makers and stakeholders.
Challenges: We had very little access to the end users and had to rely on a very small EMC marketing team for ideas and feedback.
Budget: $30k
Timeline: 2 months
PROCESS
Creative Strategy: Led by our Executive Creative Director, we designed a discovery workshop based on LUMA Institute human centered design techniques, tailored toward understanding the relationships between the stakeholders and for developing the requested output of a strategy document and conceptual designs.
Discovery Workshop: A series of activities were designed by the ECD and myself including abstraction laddering, rose/thorn/bud, and affinity clustering in order to extract pertinent information from the client team. In addition, as we developed concepts and ideas, these activities helped them to better understand their own priorities and find the essence of their desire for this approach.
A New Understanding: While the existing intranet was competently designed and had a relatively modern feel, it served as more of a content repository than a collaboration space. Our conceptual solution was to create an intranet that encouraged more communication between partners and EMC engineers, culminating in a "shopping cart" style design system where invited users could "shop" the library of EMC products to put together custom packages for EMC customers to be sold as solution packages. Notes could be added for additional features or adjustments to existing ones. The focus, however, based on client feedback, remained with a forum and messaging system paired with a profile builder that would help match users with similar interests or clients.
Conceptual Wireframes: I provided creative direction and feedback to our production designer during this time, deciding on the screens we needed to explore in order to tell the story. These were added into the strategy document with a narrative to show potential user stories.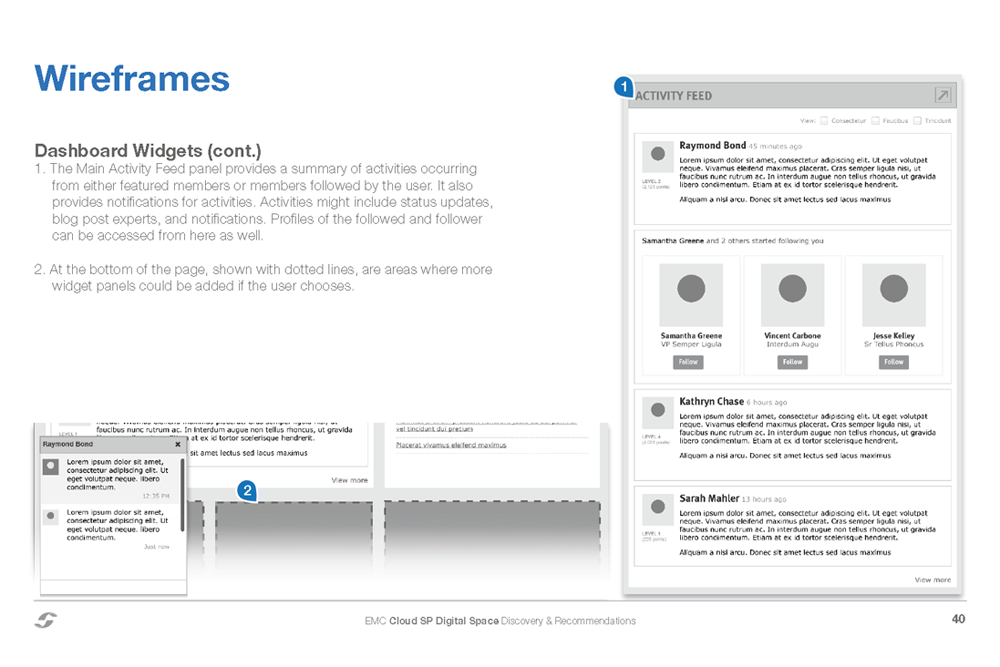 Conceptual Designs: Our talented designer continued onward by fleshing out the wireframes to create a set of relatively finished-looking designs based on the style of the existing intranet site and EMC style guidelines while updating it for a cleaner user experience.
RESULTS
The clients were very impressed with the innovative approaches we suggested, the design language we implemented, as well as the final strategy document we delivered. Implementation of an actual project was uncertain at the time of completion.
Role: Workshop Co-Lead
UX/Design Team: Mindy League, William Pate, Rufus Walker, Melanie Pavao, Attila Bendeguz
Client: Dell
Agency: Somnio Solutions
Responsibilities:
Human-Centered Design
User Experience Guidance
Art Direction
Workshop Lead